Plunge
Nicole built her own pool in her backyard. A plunge or tiny pool, as they say in the USA.
Summer in the Netherlands
The pool is lovely during the increasingly hot summers in the Netherlands. Not only our children and their friends enjoy it, but we as parents too. No more swimming pools, but jump into your own pool every day.
Anti-algae
A minus is the maintenance. Vacuuming from time to time is quite relaxing. We don't have a pool vacuum cleaner robot. Doing an aqua check every time with a water tester to analyze chlorine, pH value and alkalinity and then adding shock or anti-algae is also not a problem. It can also be done digitally, with test strips, but the results varied too often. That may be our fault, but even if you tested the water a few times in a row, the results varied. We feel that the results were not entirely reliable. And checking and maintaining the bathing water with chemicals is therefore quite laborious. And sometimes we suddenly had algae growth, the pool was green when we came back after a week.
Chlorine and PH/RX
We also used chlorine tablets to keep the water clear, but it's not an ideal solution, we found out. Chlorine tablets cause too much chlorine to enter the water and we had to monitor and correct the pH ourselves so that the chlorine can do its job. To prevent chloramines from developing in the water. Chloramine, on the other hand, is the cause of chlorine stench. We always thought that if you smelled a lot of chlorine at a public pool, the pool would be clean. But apparently it is not. It is especially a lot of urination 🙁 In addition, with a too high pH, ​​much chlorine is required to keep the same effect. So it's time for something automatic ?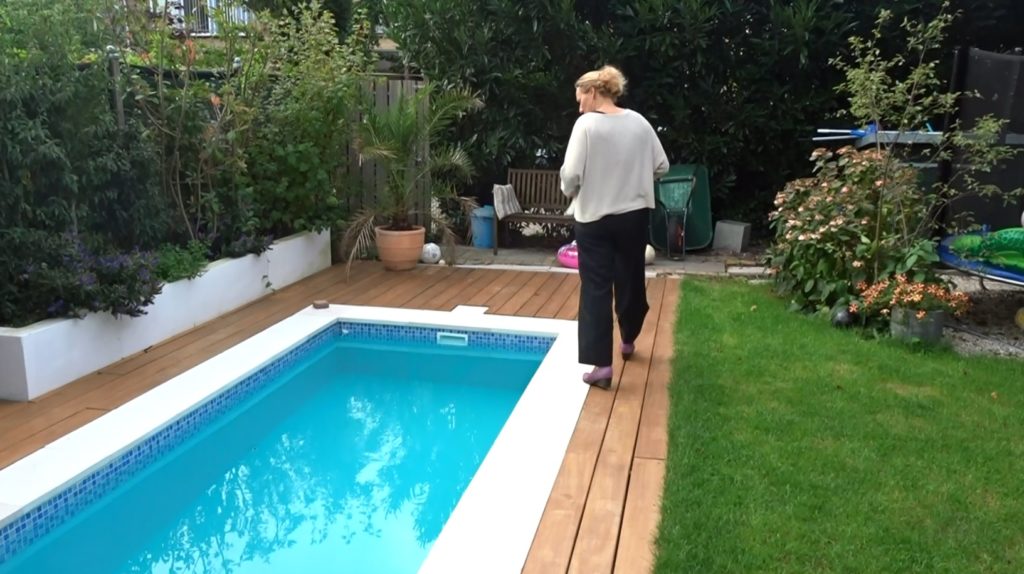 Swimming Pool Automatic Dosing System
And so Nicole went looking for a solution. After some research she came across a device that automatically analyzes the swimming water. A Swimming Pool Automatic Dosing System. An automatic dosing of chemicals gives clear and clean water in the pool because it regulates the chlorine and pH. If there is too little chlorine in the water, the device automatically adds it. The pH / RX value is also automatically tracked. A number of these devices are available for purchase.
Dosing System
Nicole ended up with the EPS One, which she bought from APP, a pool equipment supplier. Installing seemed complicated, but it was not too bad afterwards, as you can see in the video. Now that the device is working, it saves a lot of work and we no longer have to keep up with the water. We have added a flocculant, a block or Action Cube, to the filter basket of the pump. This removes the algae and microscopic dirt that slips through the filter. We have crystal clear water again, and can also safely leave for a few days, without the water being green with algae when we return ?
Video Automatic Dosing System Swimming Pool